For many years the Garden Shredder Review has concentrated on Electric Garden Shredders. That has worked great, but it is becoming increasingly clear that more people are interested in the flexibility and power offered by petrol powered shredders.
When buying a petrol garden shredder there are a few things to look out for. This post is all about helping you make the right choice.
Shredder or Chipper
Before we go too far into this article, let's clear up any confusion on whether you are buying a shredder or a chipper. Confusingly, for all practical purposes the two terms mean exactly the same.
For consistency with the other articles on the Garden Shredder Review, we are going to stick with calling all these machines 'Garden Shredders'. Sometimes, manufacturers call their machines chippers. They are exactly the same thing.
You will sometimes find garden shredders referred to as mulchers.
A mulch is a layer of material applied to the surface of soil. Reasons for applying mulch include conservation of soil moisture, improving fertility and health of the soil, reducing weed growth and enhancing the visual appeal of the area

https://en.wikipedia.org/wiki/Mulch
Depending on the materials you are shredding, all garden shredders produce materials that can be used as mulch.
Why Buy a Petrol Garden Shredder
The top reasons for considering buying a petrol chipper or shredder are:
Flexibility – Independence for the electricity supply
Power – you want to be able to shred more material, quicker
Capacity – you have a lot of trees and you want to be able to dispose of larger branches – quicker
In the end. We come down to wanting more power. The table below shows the relative power of the most popular electric shredders against petrol shredders from 6 – 15 HP. You will see that even the most powerful electric shredder cannot compare to any petrol shredder.
How do you compare the power of an electric shredder with a petrol shredder
Petrol garden shredders are available in a wide range of engine sizes and power ratings. Power output is usually measured in HP with typical models having powers of 6HP at the low end, and on up to 15HP at the higher end of the home gardening spectrum.
As you can see from the table below, even the very smallest petrol shredders can provide more usable power than even the best electric models
HP
Watts
Example
Image
2.9
2200
Bosch AXT 2200 Rapid
3.3
2500
Bosch AXT 25TC
Tacklife PWS01A



No products found.

4
3000
Ryobi RSH3045U 3000W Silent Impact Shredder
6
4470
Forest Master 6hp Compact Petrol Wood Chipper
7
5200
Titan Pro 7HP Garden Chipper Shredder
15
11100
T-Mech 15HP Petrol Wood Chipper 420ccr
HP-Watt Comparisons for Popular Garden Shredders
Six Things to Consider Before Buying a Petrol Garden Shredder
Assuming that power and image are not your only reasons for considering a Petrol Shredder. Here are 6 more factors for you to take into account before making that buying decision.
Where will you use your garden shredder
Asking where you will use your petrol garden shredder may seem strange. However, even a low end petrol shredder tends to be quite heavy. Moving them around can be a bit of a challenge.
Most come with large wheels with pneumatic tires. Many have manual handling handles. If you are not going to be moving the shredder to far, this may be sufficient for you needs. If you have a larger plot, or if you need to move the shredder up or down slopes or hills, manually moving it to where you want to use it can be a problem.
For larger plots you are going to need to look for a petrol shredder with a towing attachment.
Of course, being able to tow a shredder to where it is needed is only one part of the issue. You will need something you can use to tow it. The good news is that many ride on garden mowers have towing attachments. These are usually perfectly fine for moving a shredder around.
If you don't have a ride on mower, you might want to consider a mini tractor or even a quad bike.
What type of garden waste are you planning on using your petrol shredder, chipper.
Every garden shredder we have ever reviewed, electric or petrol, is primarily designed to dispose of woody waste. Small branches, woody cuttings, and dead-fall.
Some shredders, notably the Bosch AXT 25TC in the electric shredder arena, are able to cope equally well with woody waste, and also softer, green waste, leaves and cuttings.
Petrol shredders and chippers like woody waste. They are great if you have lots of trees, a small woodland patch, and even orchards. They will happily chew up woody waste right up to 70-100mm in diameter.
Many models will also happily chomp away at softer, greener waste and cuttings. Many even have 2 chute: one designed to cope with a mix of smaller branches, woody clippings and general, green waste; and one designed to be used for larger branches and cuttings.
We have never understood the desire to shred leaves, weeds or grass. This sort of waste can be added directly to your compost heap. If you don't have a compost heap, you can squeeze a lot of leaves into your brown bin.
No compost hear or brown bin? Squeeze leaves and grass into refuse sacks. You can squeeze a lot in and it's easier that trying to pass it through a garden shredder.
One small point on leaves. There are a range of garden vacuums/shredders. Our choice of the electric models on offer is the von haus 3 in 1. We haven't looked at any petrol or cordless options, but the Von Haus certainly does help in picking up lots of leaves pretty quickly.
How you want to use the shreddings/chippings/mulch
If you have never used any type of garden shredder, this may seem like a strange question. But garden shredders work in different ways. In the electric world you have 2 main choices of cutter:
High speed rotating blades, generally called rotary or impact shredders, which shred by a very high speed, chopping action
Crusher/cutter shredders. These work by using low speed rotating drums with cog like teeth that grab, crush and cut to shred.
With the extra power that petrol shredders have available, a range of additional operating mechanisms are available including:
Flails
Hammers
A combination – hammers and flails
Most shredders seem to be designed to reduce your garden waste to the smallest possible particles in the least time possible. In so doing, they produce shreddings that can closely resemble saw dust.
That's fine.
It works really well when you are able to just let the shreddings hit the ground to be reabsorbed as a nutrient later.
If you want to use the waste as mulch, reducing it to something resembling saw dust may not be the best solution.
We like the shreddings from the crusher time shredders. They produce chippings that are around 1-2cm long. The crushing effect means that the chippings will be split.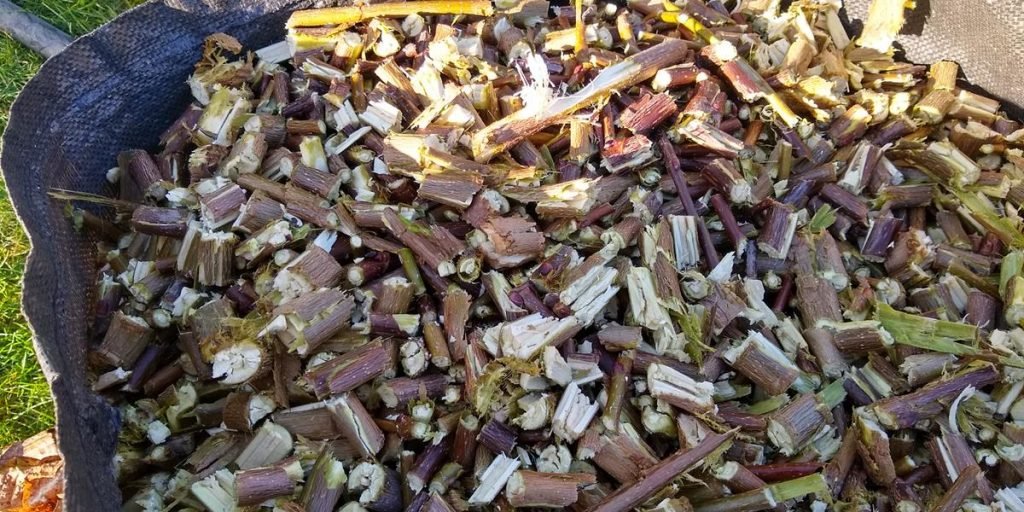 They look great spread on your borders as a mulch. If you want to just add them to your compost heap, the crushing and splitting ensures they will rot down very quickly too.
Petrol and Oil Containers
If you have lots of other petrol garden machinery you are going to be familiar with this item. You are going to need containers for your petrol and oil. If you have both 4-stroke and 2-stroke machines, you are going to need at least 2 containers.
Same is true of oil. For 4-stroke machines you will need to make sure you have motor oil available so you can keep your machine topped up.
2-stroke is a little different. You have to mix your lubricating oil in with the petrol.
It's not a big deal. Just make sure you have enough petrol containers, of the right type. If you need to store more than 30 litres of petrol at your home, make sure you follow the HSE rules.
Starting mechanism
Many of the smaller petrol shredders have pull, recoil starters. In most cases this is fine. Modern petrol motors start easily and one or 2 swift pulls on the starter cord is enough to get them started.
There are times when it can be much more challenging to get a petrol shredder started:
Cold mornings
First start of the year
After servicing or starting problems
The tenth restart of the day after a hard morning climbing and lopping trees
We know from experience – what starts out as a gentle, brisk pull, can soon seem like you are battling the local tug o war team and losing.
It will cost extra but we strongly recommend buying garden shredders with electric start options.
Servicing and maintenance
Yesterday morning, 20 Feb 2021, I took my 12 year old Bosch 2200 Quiet Shredder out for its first use in more than 4 months. I sprayed the drum/cutter with WD40. For good measure, I sprayed WD40 into the motor ventilation grills. I plugged it into the garden extension lead and proceeded to shred all the branches from the 4 maple trees in my garden.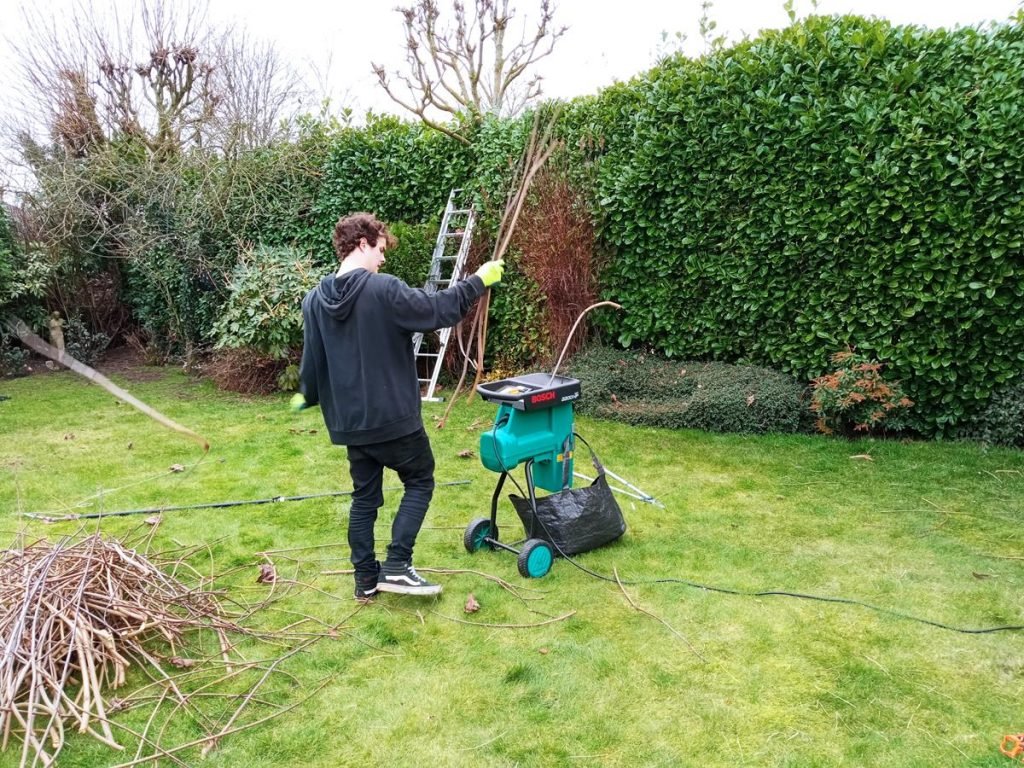 Petrol shredders are much more complex with many more components that can go wrong:
Engine
Spark plugs
Exhaust
Gears
Starters
Batteries
You must ensure you undertake your own regular maintenance. It is strongly advisable to get it professionally serviced every year too.
Storage
Petrol shredders are inevitably, much bigger than their electric cousins. As just noted, they are more complex and have more moving parts too. It is imperative that you are able to store your petrol shredder in cool, dry conditions.
Most electric shredders can be stored in any reasonably sized garden sheds. For your petrol machine, you are likely to need a much larger space. A larger shed, outbuilding or even a barn would be good choices.
You can buy waterproof covers. We would treat these as a last resort as water somehow, always seems to get in.
Maneuverability
We have already touched on this issue when we talked about where you want to use your shredder. Even the lightest petrol shredder weighs in excess of 100kg. Moving that sort of weight around can be a real challenge.
Make sure you have the space and equipment you need to maneuver it to where you require. Even if you plan on using your ride on mower or mini-tractor to tow the shredder to wherever it is needed, you are still going to have to make sure you can get it into your shed for storage.
You can generally get a handle designed to help you move the machine around by hand. Sometimes these are options extras. Unless you are sure you can use you mower or tractor all the time, we strongly recommend making sure yo
Last update on 2023-12-07 / Affiliate links / Images from Amazon Product Advertising API