Can I Use My Garden Shredder to Mulch Leaves – Part 2?
In part 1 of this article we established that you can use impact and turbine cut shredders to mulch your autumn leaves. We just don't think it's a good idea.
As we said, this is a very common question. We totally get it. If you have spent good money on a garden shredder you want to get the most value possible out of the purchase.
It is also true that even a couple of trees can generate a lot of leaves. Raking them up and bagging or composting the leaves takes quite a bit of time. Reducing the volume of the gathered leaves by creating mulch is also good.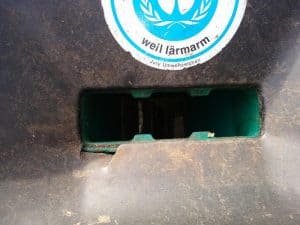 The problem as we see it is, feeding all those leaves through a garden shredder is a chore. The opening at the top of the hopper is small. Pushing large volumes of leaves through a small letter-box size hole is not a lot of fun.
In part 1 I discussed my current approach. Right up to the writing of these reviews I was raking leaves from the flower beds onto the lawn, spreading them out as much as possible, and then using my rotary mower to collect and mulch the leaves.
As a method it works fine. There's still a lot of prep required in raking out flower beds and gathering up the leaves in the more awkward places. The lawn mower takes a bit of a battering too. With all the modern technology there must be a better way.
Von Haus 3 in 1 Leaf Blower, Vacuum and Mulcher
From a quick skim of Amazon I saw that there are lots of dedicated leaf mulching options – both electric and petrol. Follow this link to see what I mean – Leaf Mulchers
For this review I went ahead and bought the VonHaus 3 in 1 Leaf Blower, Vacuum and Mulcher. At the time of writing it cost just over £35, had received over 1000 reviews, and enjoyed a 4.8-star rating.
Delivery was, as is usual for Amazon (prime), quick. I ordered on a Monday evening, the mulcher arrived on the Wednesday.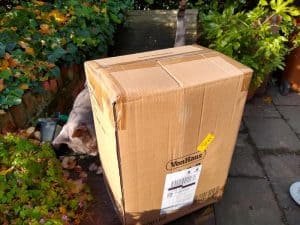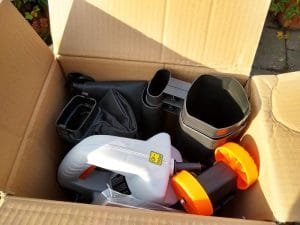 The first surprise was the size of the package. It didn't seem possible that a full-sized leaf mulcher could be tucked away in such a small box. Opening the box showed very few components. A lot of the economy of packing was achieved as the suction and blower tubes were in 2 sections which slotted in together.
Assemble was quick and simple. There are 2 cross head screws to put in – one attaches the 2 parts of the suck and blow tubes together. The other attaches the tubes to the motor. The wheels just slot over the end of the tube and clip into place.
5-minutes after opening the package, the mulcher was assembled and ready for use.
Initial impression was good. The only negative was the support strap. I am a little under six feet. With the strap on its shortest setting it did nothing to support the mulcher in use. It was just about right for my 6ft4in son. Anyone smaller is not going to get much out of using this strap without some pretty serious adjustment.
The 10m of attached cable is very welcome but is still not long enough to reach much of the garden. As with all corded garden electrical equipment, we find that a good quality extension lead, rated for outdoor use, is essential. This mulcher is rated for 3000 Watts so you are going to need a 13Amp fused lead.
Using the Mulcher
This article was meant to be a shoot out between the Leaf Mulcher and my old Qualcast rotary lawn mower. In part 1 we saw that the lawn mower was a much better option for leaf mulching than using a Garden Shredder.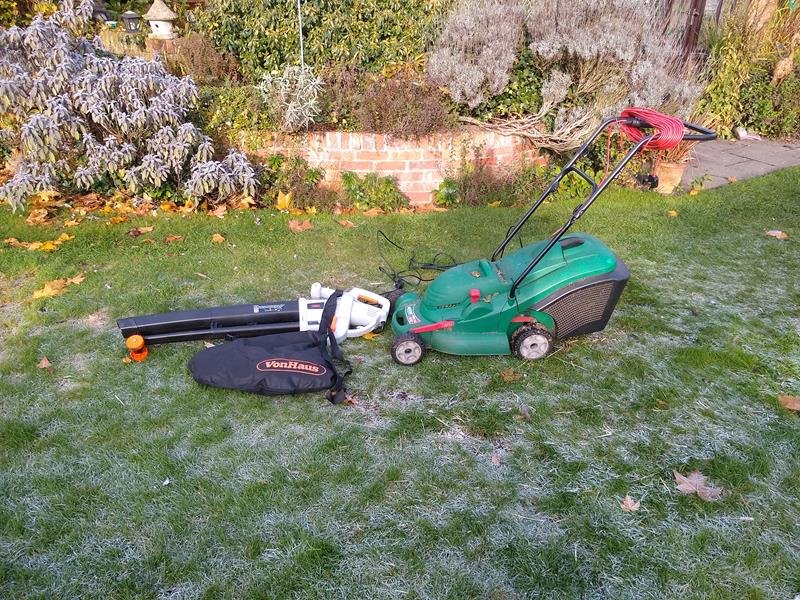 Unfortunately, the true test would have to wait a few days. As you can see in the photograph, it was a little frosty on the day I unpacked the Leaf Mulcher. With all the wet weather we had been having, my real leaf gathering exercise would have to wait.
Leaf Mulcher on Drive
Not wanting to wait for better weather conditions, I took the mulcher out for a trial run on the drive. The drive is framed by next doors Stag's Horn trees. These look good in spring and summer but do shed lots of very small leaves in Autumn. The leaves tend to get stuck in out flower borders as well as covering the drive. Ideally, they need to be tidied up quite regularly. Seemed a good place to try out the mulcher.
Mulcher in Blow Mode
At this point I had hoped to include some video of the mulcher in action. My video skills are a bit lacking, so it didn't work out as expected. Click the picture to see what I mean.
As expected, as a blower it works fine. Noise level is about that of a loud hair-dryer, so ear protection is definitely recommended for any period of extended use. You can get a feeling of the noise level from the video clip (coming soon). There is no appreciable difference in sound when used as a blower or as a vacuum.
Switching to suction
I was a bit confused on switching from blow to suck. As the device was billed as a 3 in one, I had expected 3 settings. In fact, everything sucked up gets mulched. In hindsight this makes sense. There is only a simple centrifugal fan with a food blender blade stuck in the middle to do the mulching.
Getting the angle right to get the best suction takes a bit of trial and error. Once I got the hang of things it worked pretty well.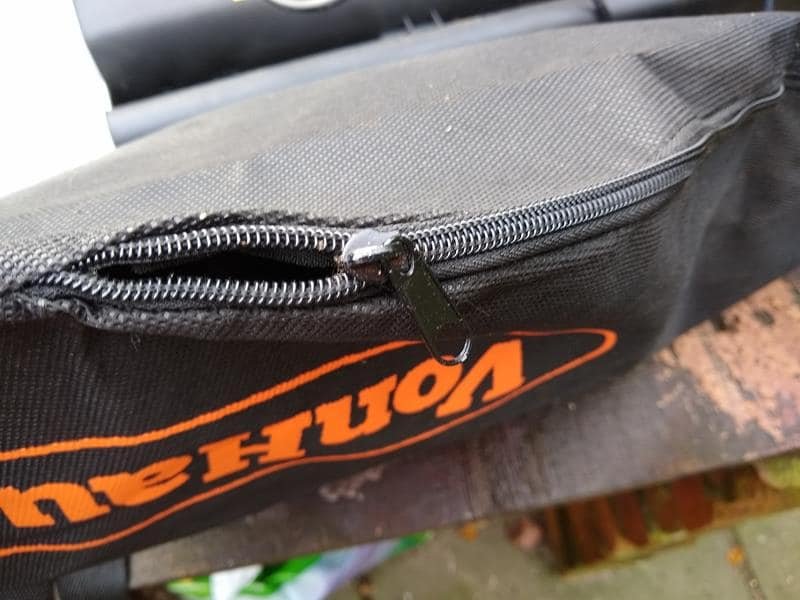 The collection bag attaches easily. There is a zip at the bottom for emptying.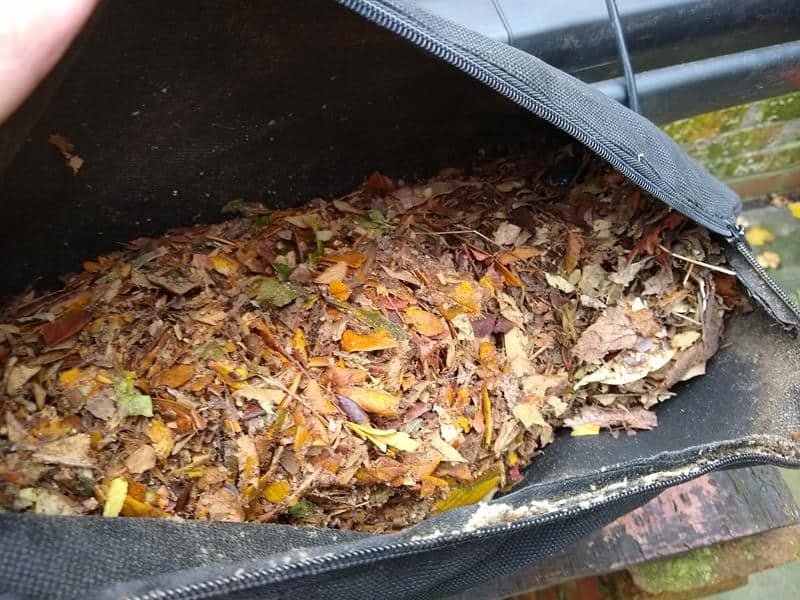 All in all, I was pretty happy with the performance as a blower and a mulching vacuum. Not as enthusiastic as the majority of reviewers on Amazon though. My initial impression is a sort of 3.5stars out of 5
The Main Test – Maple Leaves on the Lawn
If you have read part 1 of this article you know that my main leave challenge comes from my 3 Maple trees. Maple leaves are pretty big and can be heavy when wet.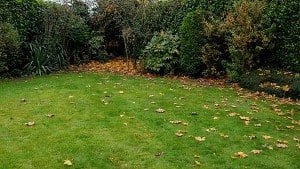 I had last cleared the lawn a week ago. Ask expected it was pretty thick with leaves both on the lawn and in the borders.
As with the drive – the blower worked fine to get leaves out of the borders. To my surprise, it even worked pretty well on sucking up single Maple leaves. My mistake was going a bit too fast and heading right of the middle of a pile of leaves. The suction tube got snarled up very quickly. This was easily cleared but there was no suction left.
On taking the collection bag off it was easy to see that the tube to the bag was completely blocked. Clearing the blockage in the suction tube cause a wedge of leaves to be served up to the fan in one go. This had gone through the fan (which was good) but had blocked up the output tube to the collection bag. Again, it was easily cleared but 2 blockages in a few minutes of use was not impressive.
After that, and by taking things a bit slower, the 3 in 1 worked fine. I could have cleared the whole lawn pretty easily if I had taken enough time. Trouble was, it was so slow. After 10 minutes I resorted to the faithful, tried and tested, Qualcast Trak 400 lawnmower.
Verdict
As this is a review site, that you expected me to say that the VonHaus 3-in-1 Leaf Blower, Vacuum and Mulcher, is brilliant.
Sadly, I can't.
In fact, I am not sure how come it has so many 5star ratings on Amazon. It's an OK blower and an OK vacuum. The leaves it sucks up are all well mulched.
For small collections of leaves it does a pretty good job. For larger jobs it is just too slow
If you have a smaller garden then go ahead and buy. Anything bigger and I don't think this is the best tool for you.
I am keeping the VonHaus.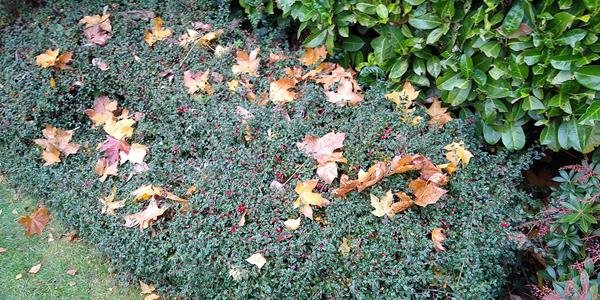 One job it did very well was getting leaves out of out 'chair bush'. (I don't know what sort of bush it is – it has just grown to be shaped like a chair – or like a boat).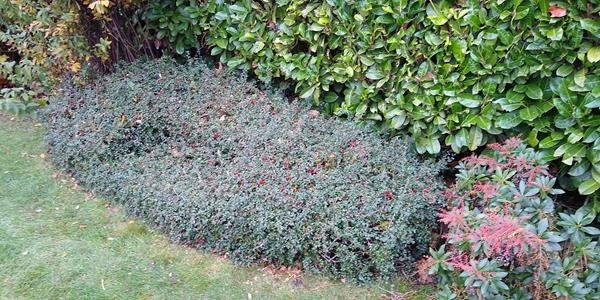 This bush not only snags the Maple leaves but it also retains quite a lot of the Laurel too. Just a couple of the minutes with the 3-in-1 and all the old leaves were gone.
That is normally a pretty long and tedious job that was done in just a few moments.
It was also fine on clearing the flower borders on the drive. Admittedly, I do tend to use the blower to encourage quite a lot of leaves to get up and chose a new home further down the road. You don't really have too much choice on this if the wind is blowing quite hard.
When it comes to clearing and mulching the sorts of quantities of leaves we get on our lawn the winner is clear.